01/21 Office Closure: Martin Luther King Jr. Day Observance
Please be advised that the Endocrine Society office will be closed on Monday, Jan. 21 in observance of Martin Luther King Jr. Day.  Website and activity support may not be available during office closure.  We will resume regular business hours on Tuesday, January 22.  Please plan all activities accordingly.
In-Training Exam (ITE)
Prepare for the ESAP-ITE
With these key dates and a video overview of the In-Training Exam (ITE) by Elaine Pelley, MD, ITE Steering Group Chair
In-Training Exam available for administration: January 15 through February 15, 2019
In-Training Exam Score Reports available: Early March 2019
ITE Live at ENDO 2019, New Orleans: Saturday, March 23rd 9:45 am – 11:15 am
More information about the In-Training Exam (ITE)
New Continuing Education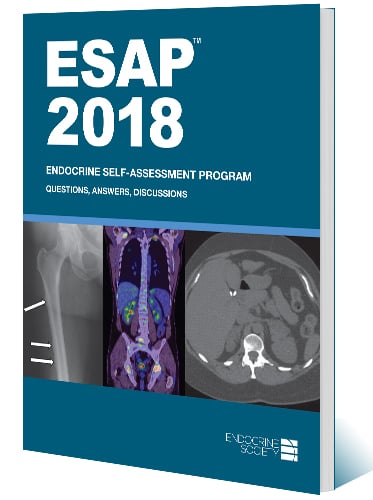 Interactive online modules and printed reference book
Three learning modes to complement different learning styles
Peer-review comparisons for each question
Up to 40 AMA PRA Category 1 Credits™ and 40 ABIM MOC Points
Detailed overall performance report
Lab values in conventional and SI units
---
Based on the live 2018 Endocrine Board Review course, EBR Print and Online follows the ABIM exam format. Progress through a review of each subject area by answering clinical, case-based, ABIM-style questions. With the Online component, hear expert commentary about correct and incorrect responses to help you identify knowledge gaps.
EBR 2018 also provides:
Progress reports to measure your performance
Unlimited access to the online course; access the recordings as many times as you like
Up to 14.25 AMA PRA Category 1 Credits™ and ABIM MOC points
Over 220 ABIM-style questions; see how your responses compare to your peers
---
The CEU 2018 Session Recordings contain the most comprehensive review of clinical endocrinology. Enhance your endocrinology practice with the most recent and advanced breakthroughs, from the Society's top-rated program.
 Learn on-the-go, with features including:
Presentation slides synchronized with recorded audio presentations
Speakers' mouse movements captured and included in playback
Presentations searchable by session title, presentation title, and speaker name
Downloadable MP3 files of presentation audio
Available on iPhone, iPad, and Android devices
CEU 2018 Session Recordings are eligible for a maximum of 28.25 AMA PRA Category 1 Credits™.